Dr Kate North
Kate North writes poetry and fiction. Her work interrogates the mutual dependencies of repression and belonging.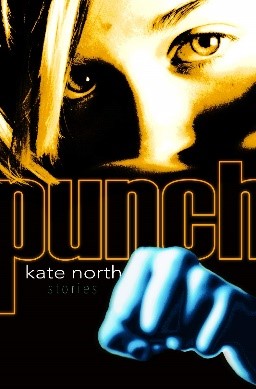 Punch. Birmingham: Cinnamon Press, 2019. Short story collection.
The short stories in Punch explore the theme of isolation in 21st Century urban life through character and setting. Through these stories Kate asks how the cultural outsider can exist in relation to both contemporary and historical difference. Characters negotiate past prejudice from within present patriarchal and heteronormative states.
These stories all feature characters who are in various ways 'other' yet also accepted within their environments: the tourist, the bullied child, a spy. These characters negotiate acceptance and alienation while questioning the structures and practices that surround them. Many of these stories could be characterised as slipstream, existing in moments where the everyday suddenly becomes unknown.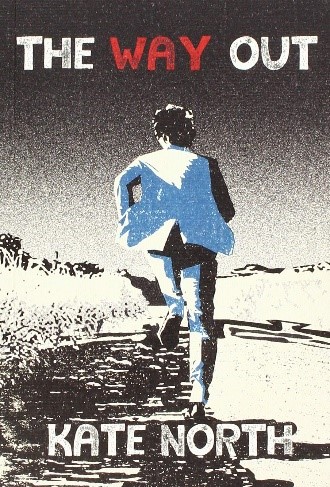 The Way Out. Cardigan: Parthian, 2018. Poetry collection.
The enduring theme of this collection is the masking of reality with a particular focus on trauma. It is a collection of poems exploring personal choice in relation to addiction, illness, loss, the body, and loving relationships.
In this collection Kate explore how can the body be represented both culturally and physiologically; how notions of 'the self' may be maintained and understood through choice and the lack of it.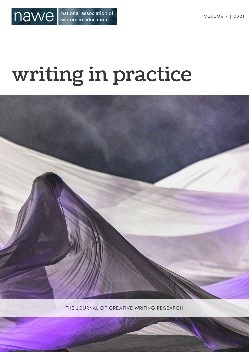 Writing in Practice. Journal.
Kate is Principal Editor of Writing in Practice, a peer-reviewed journal that aims to explore the nature of the art of writing, highlighting current academic thinking and practice, and reflecting on this with an international outlook.
For further details of Kate North's writing, see her website.
…
…
Dr Christina Thatcher
Dr Christina Thatcher is an American poet, fiction and nonfiction writer with research interests in contemporary poetry and the role of creative writing in therapeutic and community contexts. She is also interested in interdisciplinary creative writing research within the social sciences and medical humanities. She has published two poetry collections with Parthian Books: More than you were (2017) and How to Carry Fire (2020). Her third collection-in-progress won a Literature Wales Writer's Bursary in 2018 and aims to explore the intersections between female strength and vulnerability. Christina's recent poetic research explores femininity and masculinity in the context of farm work, horse rearing and rodeo riding.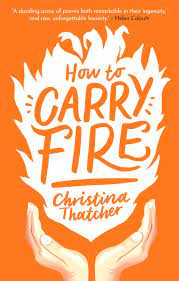 How to Carry Fire. Cardigan: Parthian, 2020.
How to Carry Fire is a poetry collection which explores the literal and metaphorical incarnations of fire. It considers how destructive forces (such as family addiction) as well as cleansing experiences (such as finding love) can be represented using the language of fire. The collection is structured as a journey which encourages readers to follow the speaker across time and space—from past to present and from America to Wales. How to Carry Fire opens in the aftermath of a physical housefire and ends with a poem which speaks to how love can offset everything which 'burns'.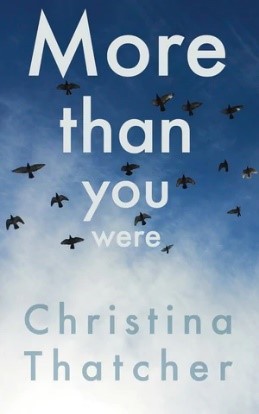 More than you were. Cardigan: Parthian, 2017. Poetry collection.
More than you were was written to cope with, explore and represent the impact of addiction on Christina's family as well as consider what it means to lose a parent to addiction. This debut poetry collection investigates the ways in which disenfranchised grief can be represented through poetic form, metaphor, imagery, implication and accessible language.
Christina published an article about her writing process as well as audience awareness, public appearances and reader engagement related to the collection, in the Journal of Poetry Therapy.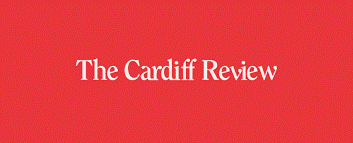 The Cardiff Review. Digital magazine.
Christina has been the Poetry Editor of The Cardiff Review since 2017. She reads over 1,000 poems per year and publishes approximately 4% of them. You can read her 'What I'm Looking For' statement, designed to help interested poets decide what to submit to the magazine, below:
'I will be looking for poetry that leaves me with something: a thought, a feeling, an idea, an unexpected phrase. I love poems which rely on small moments or concrete images. I prefer the personal to the general, the specific to the abstract. I value nouns and verbs over adjectives and adverbs. I want to see the purpose in each poetic choice, to be able to answer: why did the writer break their line here, use this form, rearrange that syntax? I want each poem's purpose to be palpable, to see clearly how each word, comma and stanza break work together to create something bigger, more important. I also love poetry that surprises, takes unexpected turns. So, please, send in poems that speak, shape-shift, give, ask questions, and resonate long after they've been read. I'll be waiting for them.'
For further details of Christina Thatcher's writing, see her website.